Royally Good Coronation-Themed Afternoon Teas in London
03/05/2023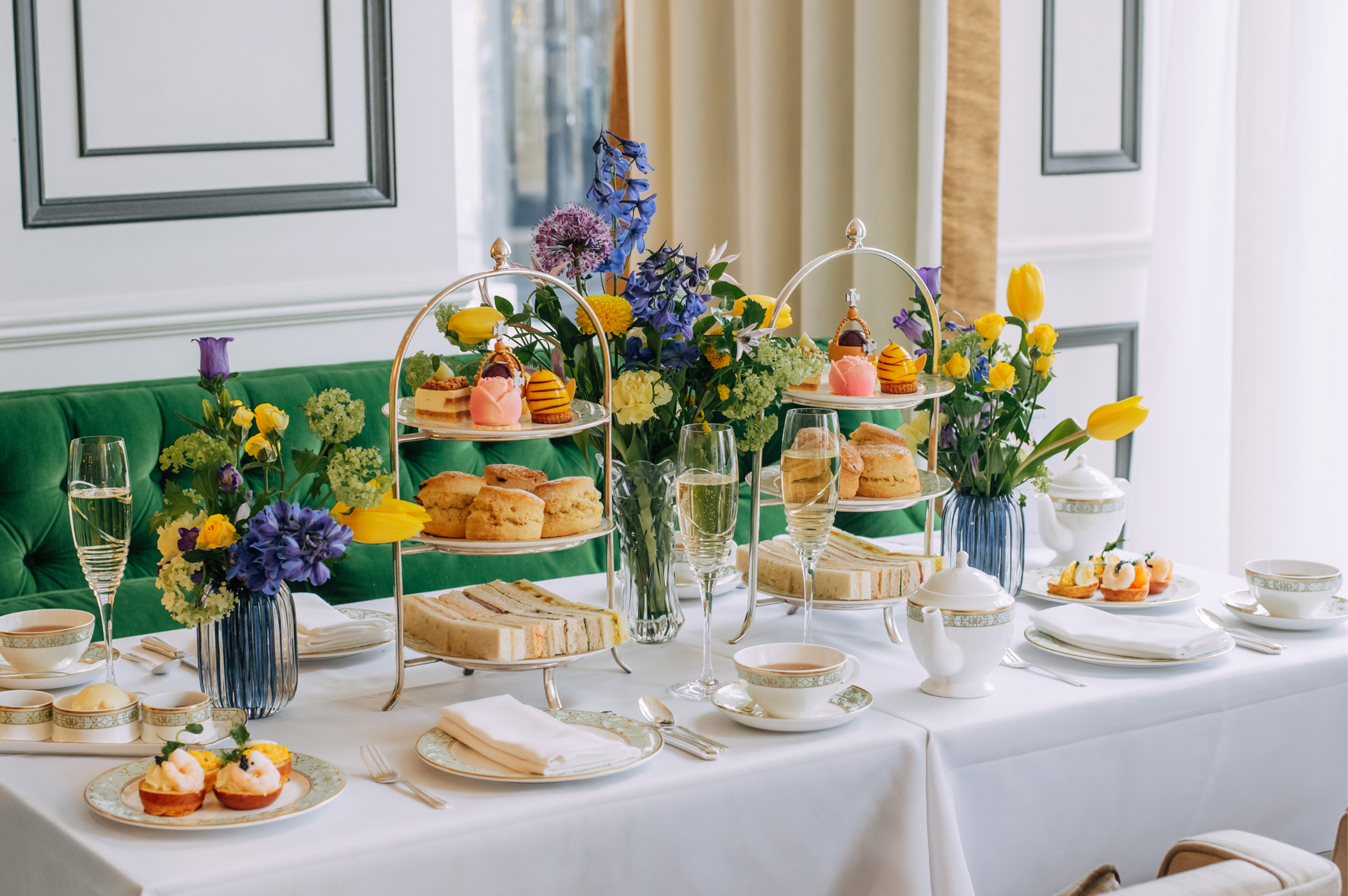 Because what says 'Royal Celebrations' better than tea and cake?
On Saturday 6th May 2023, His Majesty King Charles III will be officially crowned alongside the Queen Consort. Set to take place at Westminster Abbey, The Coronation Ceremony will form part of a long bank holiday weekend full of celebrations across the United Kingdom and the Commonwealth. Ranging from street parties and events, to concerts and Royal parades, the Coronation weekend is a true celebration of British culture, history, and identity.
Such an iconic occasion deserves a truly grand celebration – and what other than Britain's favourite pastime activity: afternoon tea. Brought to fruition by the talented hands at some of London's finest hotels and restaurants, we have brought together a selection of the best coronation-themed afternoon teas to enhance those celebrations!
With over 30 years of expertise in the decoration of fine ceramics, William Edwards respects the importance of presenting the perfect tea service to create the ultimate afternoon tea experience. Fine bone china has been long regarded as the epitome of elegance and sophistication, and for good reason! Given its translucent body, delicate appearance, and unsurpassed strength, it makes the perfect choice for a romantic and luxurious atmosphere. Enhanced by intricate designs and patterns, bespoke chinaware has become the key to defining glamour and refinement, offering a level of exclusivity and customisation that makes for a truly unique experience.
Supplying fine bone china to several of London's best hotels and restaurants, William Edwards has grown to become a leading supplier of bespoke afternoon teaware. As the coronation of His Majesty King Charles approaches, this carefully considered guide offers a selection of award-winning, innovative, and elegantly classic afternoon teas in and around London.
So, raise a glass to the Royals and mark this historic event with a quintessentially British afternoon tea!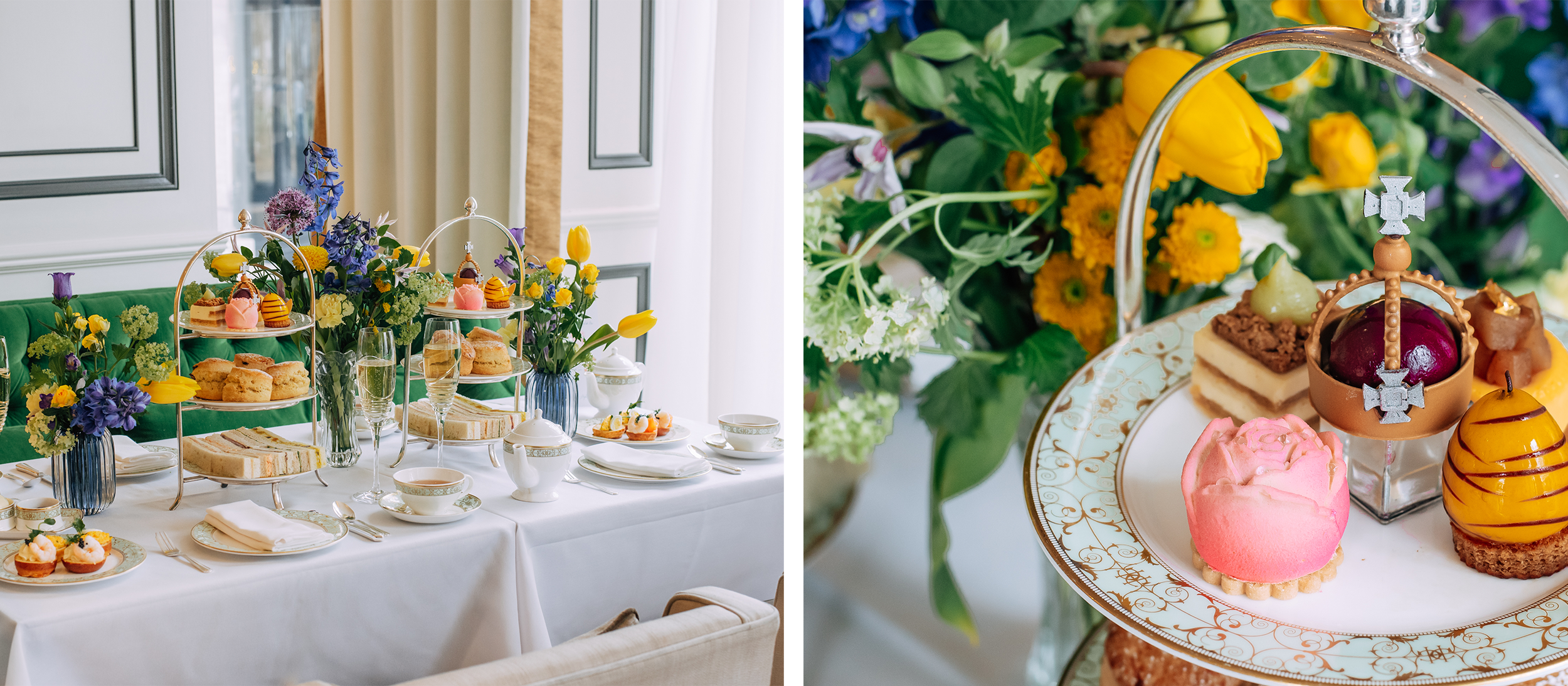 Grosvenor House – "MARKING THE MOMENTOUS OCCASION WITH AN AFTERNOON TEA INSPIRED BY KING CHARLES' PASSION FOR PROVENANCE"
JW Marriot Grosvenor House London has been long favoured by Royalty since the late 1930s. Hosting a celebratory Coronation Ball for King George VI in 1937, the Coronation Year Ladies' Night for Queen Elizabeth II in 1953, grand occasions in the Great Room, including Queen Charlotte's debutante balls, and to this day the Royal Caledonian Ball.
Continuing its royal regal legacy, Grosvenor House sets the stage to celebrate the Coronation of His Majesty King Charles III with an extra special afternoon tea. Inspired by both King and Kingdom, the introduction of their latest tea service celebrates the nation coming together with a loving tribute to the King's passion for provenance and Great British fare.
Hosted in the award-winning Park Room, this extravagant venue is an inspired and elegant place of relaxation with a tea service that brings together the best of British hospitality. The menu features a line-up of tantalising flavours paired with a carefully considered selection of Newby fine teas, including King Charles' favourite blend, Darjeeling.
BOOK HERE - https://www.parkroom.co.uk/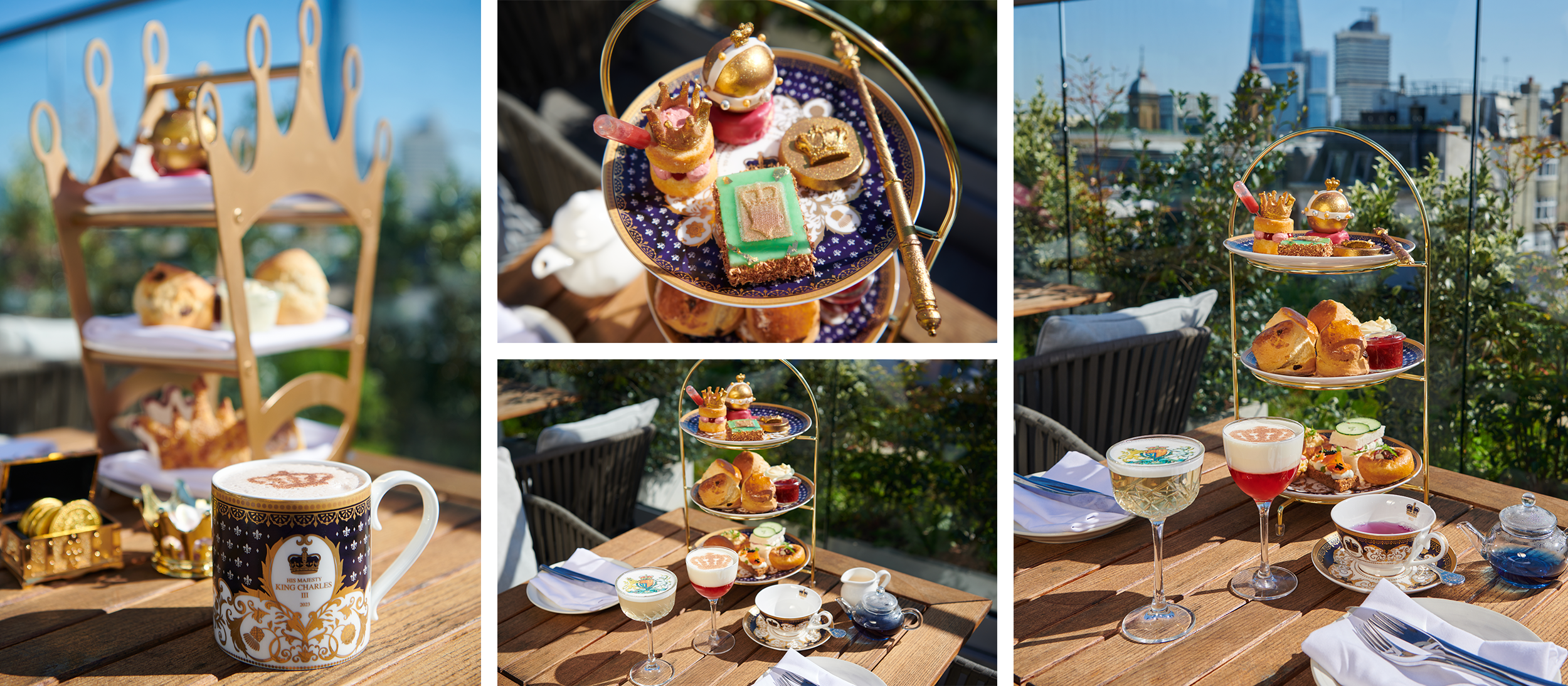 Vintry and Mercer – The Crown Afternoon Tea
Taking in a Sweep of London's skyline, from the dome of St Paul's Cathedral to the tip of The Shard, the Mercer Roof Terrace makes for a great way to enjoy an exquisite afternoon tea service.
Celebrate the Coronation with the latest five-star offering from Vintry and Mercer. Classically named 'The Crown Afternoon Tea', this majestic gastronomic experience puts a twist on a traditional afternoon tea to honour the Royal institution.
Presented on the exclusive William Edwards fine bone china 'Coronation collection' – available to buy here - this exquisite afternoon tea is perhaps the most regal of them all, with every last detail executed to a tee!
Expect a menu fit for a king, with favourites including coronation chicken vol-au-vons with mango chutney, roast beef, horseradish, and gravy 'Yorkshire pudding', and truffled egg mayonnaise brioche buns, each named after one of the famous Royal Palaces. Not forgetting the true jewels in their culinary crown, desserts involve classic buttercream scones, chocolate scepters, and a glazed 'Sovereign's Orb' filled with a mouth-watering raspberry and orange blossom mouse and Genoise sponge.
Not forgetting the younger guests, children have the option to enjoy a refined 'Prince and Princess' afternoon tea with a host of signature savouries, pastries, and a special 'royal treasure chest' filled with chocolate gold coins!
BOOK HERE - https://www.vintryandmercer.com/whats-on/the-crown-afternoon-tea/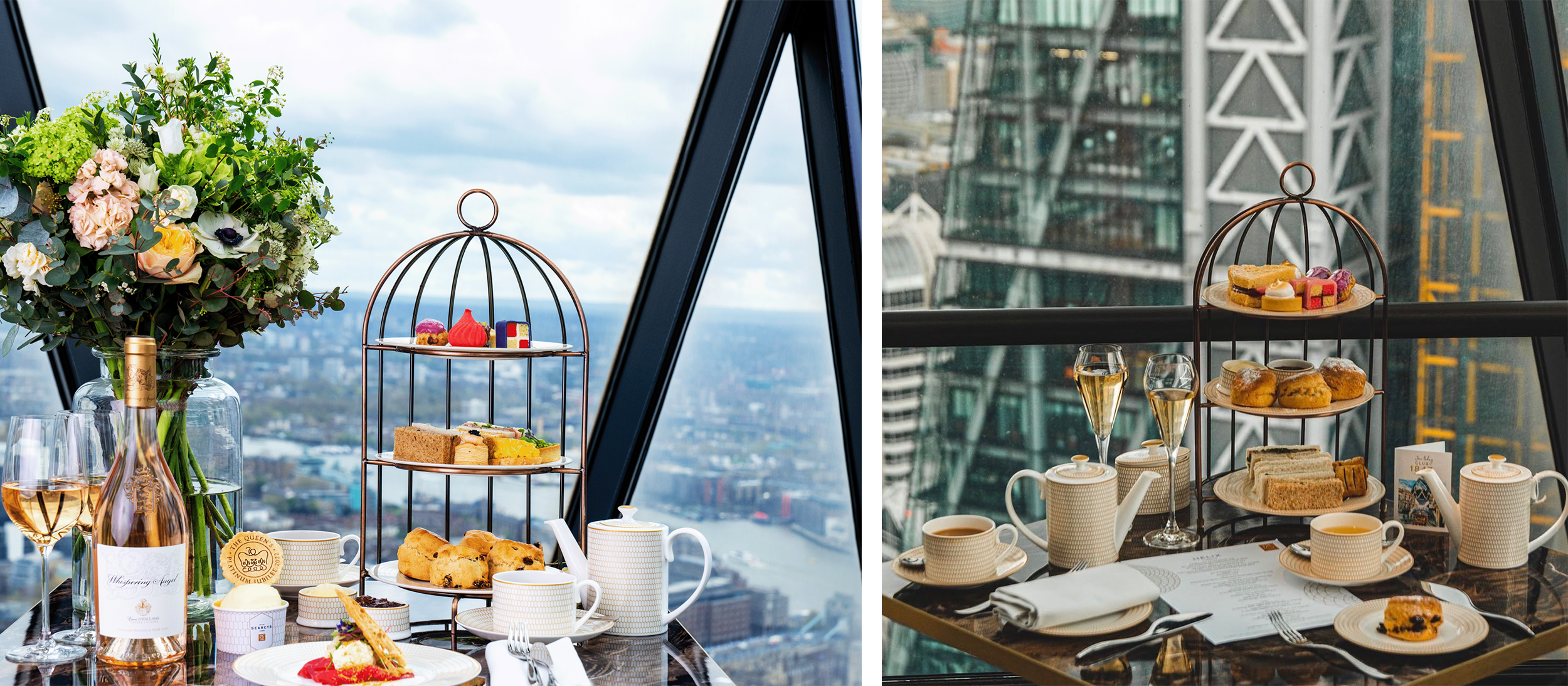 Searcys at The Gherkin – Central London
Boasting incredible sky-high views of London and championing the best of British cuisine, Searcys well and truly put the 'high' in high tea.
Celebrating 175 years of trade, Searcys is no stranger to the world of high-fashion British afternoon tea. In residence to some of the UK's most iconic venues including The Gherkin, Blenheim Palace, and London St Pancras International, Searcys expertly blends wondrous dining spaces with a series of indulgent culinary creations.⁠ Displaying a tiered selection of decadent mini pastries, fine-finger sandwiches, and classic British sweet-treats, Searcys ticks all the boxes when it comes to creating a signature experience.
BOOK HERE - https://www.sevenrooms.com/experiences/searcysatthegherkin/champagne-afternoon-tea--7205433450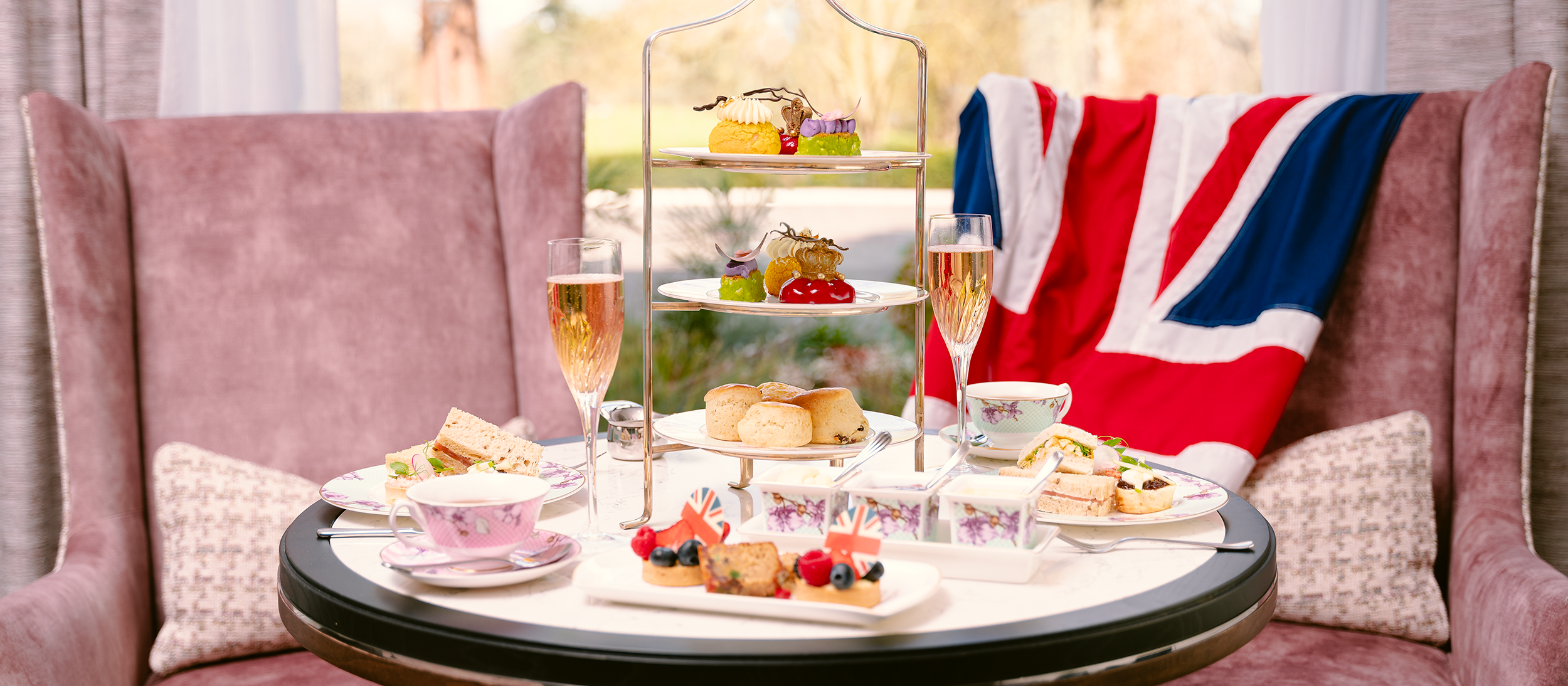 Fairmont Windsor Park – King's Coronation Afternoon Tea
Step into the most vibrant yet calming tearoom nestled in the historic market town of Windsor! Located on the outskirts of London, Fairmont Windsor Park is a luxurious five-star countryside retreat where history and elegance merge to create a luxury escape pampered in beautiful surroundings and grand charms.
Steeped in a wealth of history, the hotel is packed with several drinking and dining spaces with many paying a loving tribute to the history of this idyllic landscaped Mansion. Inspired by the history of its previous owners, the Orchid Tea Room was once used to house a collection of orchids from all around the world. The hand-painted wallpaper, soft-velvet furnishings, and bespoke William Edwards fine bone china perfectly reflect the natural beauty of the orchid in this carefully engineered environment.
In celebration of the King's coronation, delight in an extra special afternoon tea from Fairmont. Carefully crafted by their talented pastry team, you can expect coronation chicken sandwiches, Scottish smoked salmon brioche, and parma ham tartlets with a choice of delicate sweet treats, including their signature Royal crown raspberry pillow!
*Pulling out all the stops, Fairmont Windsor Park will be hosting an exclusive King's Coronation Garden Party Event during the day of the coronation on the 6th of May. By booking the King's Coronation Afternoon Tea, guests will receive a 10% discount on tickets to the Garden Party event. Available to book here! King's Coronation Garden Party page*
BOOK HERE - https://www.fairmont-windsorpark.com/restaurant/orchid-tea-room-afternoon-tea/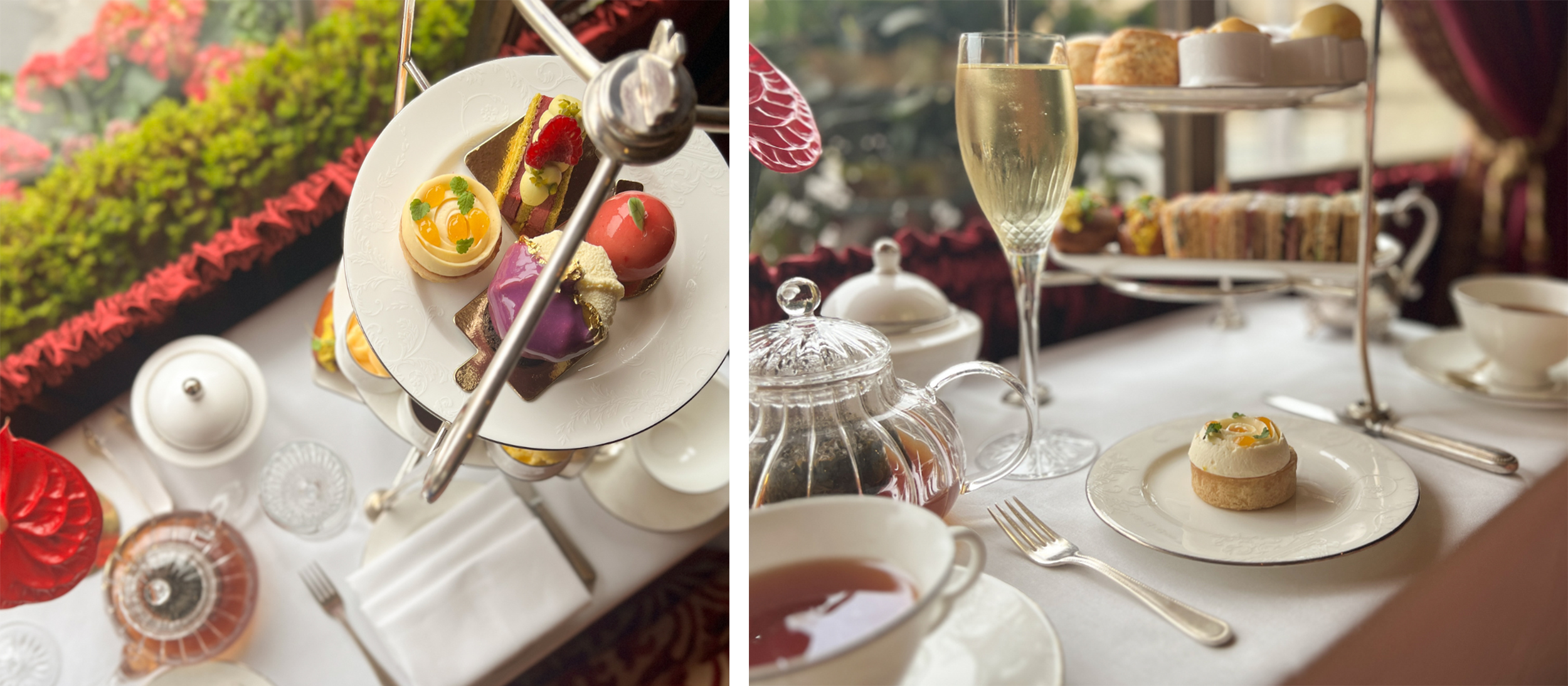 The Rubens at the Palace – The Palace Room
Overlooking Buckingham Palace, and within the Taj 51 Buckingham Gate Hotel, which has hosted the Queen and other Royals in the past, Rubens have launched a King's coronation afternoon tea with a very regal twist.
With a reputation as one of the best afternoon teas in London, as well as one of the best Vegan afternoon teas in London, Rubens pays respect to this classic British pastime whilst incorporating fresh twists along the way. Think three varieties of golden scones, a selection of flavoursome finger sandwiches, and a top tier grand finale of royal-themed patisserie complete with a gold leaf topped Opal white chocolate 'Crown'. Served on bespoke William Edwards bone china, each item of dinnerware is finished with a hand-applied platinum edge to add an extra touch of regal elegance.
BOOK HERE - https://rubenshotel.com/dining-and-drinks/afternoon-tea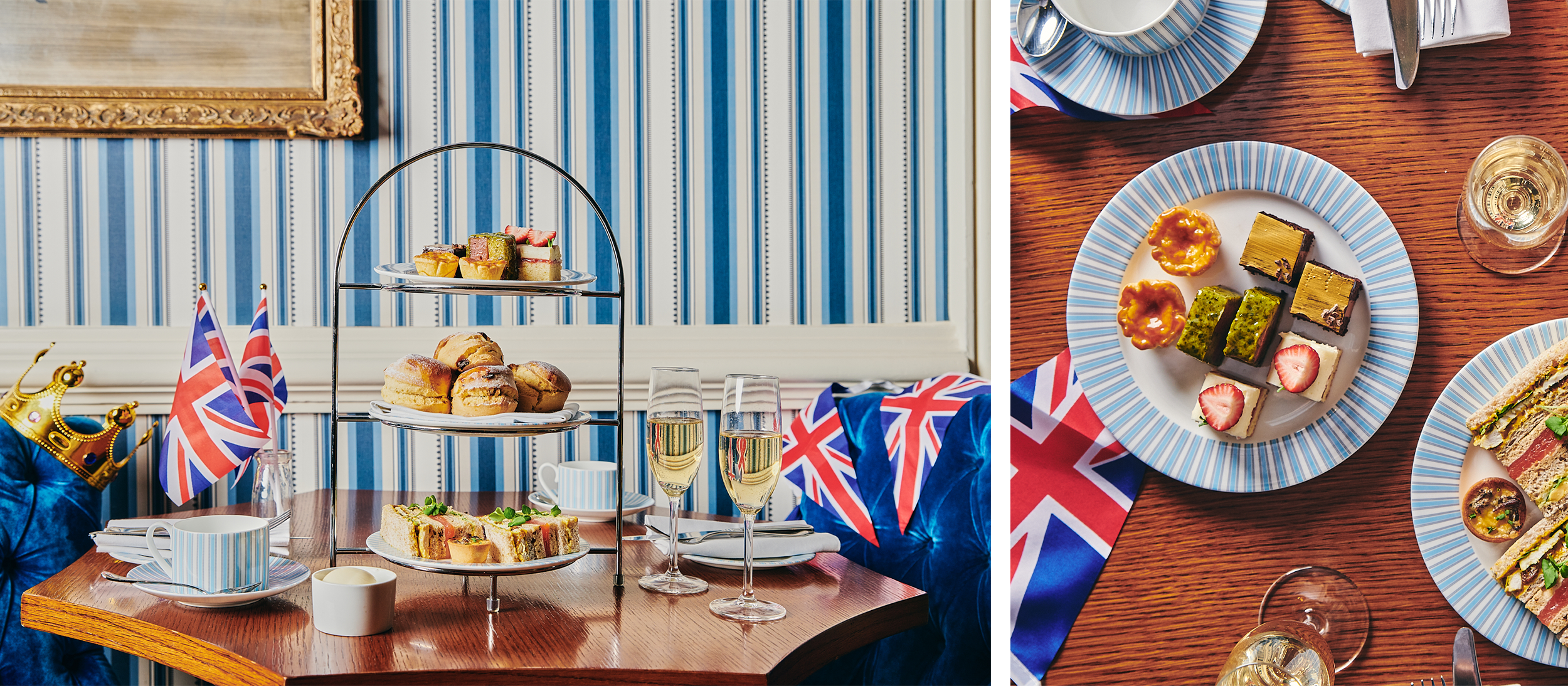 The Alice, Oxford – King Charles Coronation Afternoon Tea
Situated in the historic academic city of Oxford, The Randolph Hotel is a luxurious five-star hotel regarded as the epitome of English style and charm, where Victorian chic meets regal splendour. The main dining quarter 'Lancaster Room' is a fittingly decadent space, promising opulent yet cosy surroundings; think richly textured and toned fabrics, oxford-striped walls, and litters of floral decorations.
To celebration the coronation, The Alice's Executive Chef Rhys Grayson, has curated an exclusive coronation-themed afternoon tea menu composed of delicate canapes, seasonal sandwiches, and the King Charles wild mushroom tart. Finishing with freshly baked scones, elderflower and strawberry Victoria Sponge; Maids of honour tart, battenbergs and a Chocolate Royal mousse cake, this plentiful offering promises day of regal splendour.
If that wasn't enough, there's even a live pianist from 12:30-4:30pm Friday – Sunday.
Available throughout the month of May with the option to book for the day of the coronation where you will be greeted with a glass of champagne and canapés before settling in to watch the coronation and witness history.
BOOK HERE - https://www.sevenrooms.com/events/thealice
Intercontinental Park Lane – Coronation afternoon tea
Perfectly pitched between Mayfair and Knightsbridge, and overlooking the Royal Parks and iconic London landmarks, the five-star Intercontinental Park Lane is widely recognised as one of London's best!
Housed in what was once Royal residence, the site of the hotel previously accommodated Queen Elizabeth II. Just a stone's throw from the gates of Buckingham Palace, The Wellington Lounge effortlessly brings together heritage and refined dining with their award-winning afternoon tea selection.
With respect of seasonal flavours, start with delicate finger sandwiches, including slow-roasted pheasant and Scottish whisky-cured sea bream, before delighting classic homemade scones with their signature strawberry jam, red plum clafoutis tart, and martini cheesecake with a zesty lemon twist.
BOOK HERE - https://parklane.intercontinental.com/the-wellington-lounge/